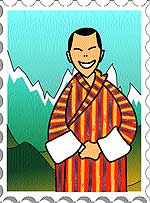 Smiling Buddha Thunder
If Singapore represents man's ultimate triumph over nature, Bhutan is just the opposite. From the moment you land at Paro's Toyland-like airport, the power of nature overwhelms you. Lush green valleys, gentle river-hugging roads, apple trees in full bloom: Bhutan is truly the last Shangri-La. The land of the Thunder Dragon, peopled by the proud Drukpas, is benign and welcoming—from the fairytale houses to the intricate paintings, everything appears in miniature size. About the only thing the Bhutanese prefer large-sized are their cars which, I might add, rarely honk. No noise or air pollution: that, in a sense, is true (gross national) happiness!
In keeping with our tryst with nature theme, the hotel manager recommends we trek to the Tiger's Nest monastery, 900 feet above Paro. "If you come...