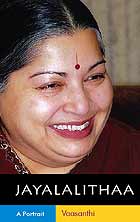 Jayalalithaa- A Portrait
Penguin/Viking | Rs 499
Release date: May 2011
J. Jayalalitha, one of India's most enigmatic political figures, came into politics with three disadvantages of sorts: she was a film star, a woman, and a Brahmin at that. However, over the decades, she has transformed herself into a charismatic leader of a Dravidian party that was left rudderless after the death of the iconic M.G. Ramachandran, generally referred to as MGR or (by fans) as 'Vathiyaar' (teacher, or leader). It wasn't easy to step into the shoes of a man...