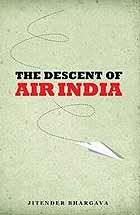 Banned book: The Descent of Air India Bloomsbury, 2013
Status: Book withdrawn because of defamation charges
The tragic diminution of Air India, first gradually in the decades of the '80s & '90s and then at an accelerated pace post-2004, warranted a book. With few parallels in corporate history of an iconic company being virtually grounded by the people entrusted to make it soar, the story deserved to be told; couldn't have gone unsaid.
Having worked for two decades during which the airline went into a tailspin, I often wondered as to how would people know what really happened, how Air India lost the sheen, how people failed their airline, how numerous injudicious decisions were taken to financially incapacitate it—how everyone from minister to an average employee contributed in...