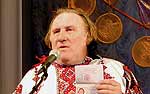 A Capital Flight
Iconic French actor-director Gerard Depardieu (right) moved to Russia, where he was granted citizenship by Vladimir Putin.
Louis Vuitton chairman and France's richest man, Bernard Arnault, left Paris for Belgium. His applications for citizenship have been unsuccessful thus far.
Electronic music composer Jean Michel Jarre is among several French emigres to London.
***
Third time's the charm for Bernard Arnault? The chairman of luxury goods group Louis Vuitton Moet Hennessy—and France's richest man—had decided to pack his bags move across the border to Belgium last year. Arnault has since had to face the ignominy of having his application to be naturalised as a Belg­ian citizen reje­cted not once, but twice,...