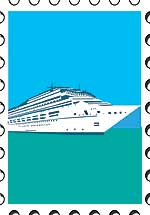 Hitting the High Seas
It was big. I mean it was really big. The ship that sailed out of Venice with me on board on a warm summer day weighed one hundred and twenty-two thousand tonnes. It had fifteen decks and carried over three thousand passengers, served by a motley crew of fifteen hundred. We had at our disposal thirteen restaurants and an equal number of bars. There was a theatre with over a thousand seats. It could match anything on Broadway or West End in grandeur if not the quality of the productions. Celebrity Silhouette cruised for seven days at a steady thirty miles an hour in perfectly calm, blue waters of the Mediterranean. We were on our way to Greece and its islands.
You paid a small surcharge if you ate in one of the more intimate restaurants. Otherwise the meals were included in your fare and it was fine dining...