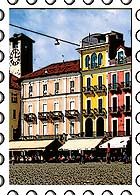 Night lights and action
"I was born here," Anurag Kashyap declared at the screening of his Bombay Velvet at the Locarno International Film Festival. This was not hyperbole. The director is a true son of Locarno: his controversial film, Black Friday, was screened here in 2004, three years before the Indian censors cleared it—that too after the Supreme Court's intervention.
Back home, Bombay Velvet may have been rejected by the critics and the public alike, but in Locarno it received an ovation. The screening was at the Piazza Grande, the town's main square, and all the 8,000-plus seats set out there were taken. By day, the square is a pulsating meeting place for the town's 15,000 residents. By night, during the film festival, it turns into an open-air cinema. The warm summer nights,...