That Bosphorescence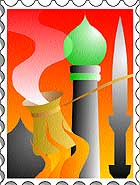 When I arrived in Istanbul on a Friday, expecting it to be a public holiday, and found no lull in its everyday activities, I realised how Turkey was not the usual Islamic country. Later, when I asked an educated and well-travelled Turkish man whether he felt inclined to visit a mosque on a Friday or even a Sunday, he said he visited mosques only occasionally, and that too on special days like Ramadan.
Yet, in no other city I have been to have I seen such splendid mosques from where the muezzin beckon the faithful to prayer five times a day. With no one in any particular hurry to visit the mosques, the azaan almost seems a plaintive cry that mingles with the sound of horns from old ships and the cry of seagulls on the Bosphorus.
On the streets these days, you can see more of the hijab and the long black robes, but that is the exception rather...