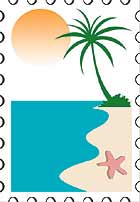 The Blackwaters, No Longer
I would wager that nobody in India could spot Havelock island without a bit of help from Google maps. Yes, it is in India, in the Andamans, with a minuscule population of about 7,000, mainly post-partition/1971 war settlers from East Pakistan (Bangladesh), government employees and descendants of kaalapani convicts. Here is a little tidbit that threw me: more than one lakh tourists visit Havelock every year. Interestingly, the figure was around 5,000 (and that is being liberal) before the tsunami.
The only way to reach Havelock is a two-hour ferry trip from Port Blair. The ferry runs twice a day from Port Blair and carries around 150 passengers. During the tourist season, a bigger catamaran with a 300-passenger capacity plies. One could take a sea plane from Port Blair. But be warned: the service is reportedly unreliable....