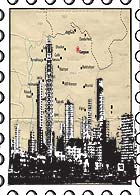 Going, going, Gurgaon
Until quite recently, Gurgaon was a dusty, nondescript village with more buffaloes than people. Now it is a city with the third highest per capita income in the country. Half of Fortune 500 companies have their offices there. The place has over 20 swanky malls and probably more upscale restaurants than any other Indian city. That does not prevent Gurgaon from being tacky. It lacks reliable electricity and water supply. Children of former villagers, now crorepatis, have more time on their hands than is good for them. There are frequents fights in the city's numerous bars and women don't feel safe at night.
Gurgaon came up almost overnight, as if by accident, and the property developers made a killing. It was easy. All they had to do was bribe the politicians and the civil servants and then do whatever they...