Matchpoint Maharashtra
Region-wise seats break-up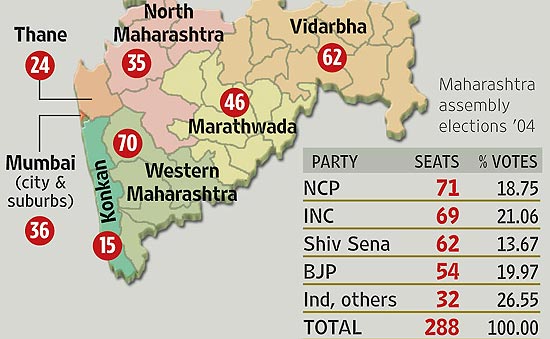 Rural Issues
Agrarian crisis, lack of roads, irrigation, load-shedding and some key rural issues.
Farmers' suicides from increasing debts.
The fall in foodgrains production. Oilseeds and other commercial crop output has also dipped sharply.
Urban Issues
Clear division of issues in urban, rural Maharashtra. Urban areas now comprise about 40 per cent of population.
The state has the highest number of urban poor in the country, at 1.46 crore.
Security, employment, housing, transport are some key urban issues. Frequent violent clashes on political and communal lines is a major urban issue.
THIS ARTICLE IS PRICELESS...
To read this piece, and more such stories in India's most exciting and exacting magazine, plus get access to our 25-year archives goldmine, please subscribe.