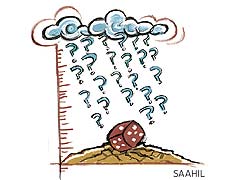 1. Suspense Over Monsoon Forecasts
With widely varied forecasts over the monsoons—currently delayed—the reputation of the weather forecasters is at stake. Giving competition to the state-owned India Met Department is the three-year-old private sector Skymet which is sticking to its forecast of a normal monsoon of 102 per cent of the long range average. IMD has already scaled down its expectations to 88 per cent. Reputation apart, so far the government is sticking to its own IMD forecast. Of course, many are pinning hopes on Skymet triumphing after all—in the last three years, Skymet forecasts have proved closest to the actual monsoon rainfall.
2. Online Medicine Wars
Drugs without prescription are under the scanner, especially if they are sold online. For years, experts...