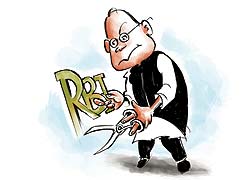 1. Rumblings Within The RBI
The announcement of a monetary policy committee to curtail inflation has had an earthquake-like impact on the Reserve Bank of India. While the composition of the committee is not known—though RBI governor Raghuram Rajan will be part of it ­—the word on Shahid Bhagat Singh Marg (the Mumbai headquarters of the 80-year-old central bank) is that RBI is being stripped of its autonomy. The mood is despondent amongst the 18,000-odd employees of RBI. "At this rate, we'll end up being only a government department, an appendage of the finance ministry," says a senior RBI officer, bemoaning the demotion of a "transparent institution that was working".
2. Approaching Storm For Cigarette Firms
India will be the most...