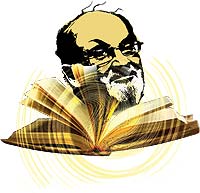 Djinns in Adulthood
Early reviews of Salman Rushdie's new novel, Two Years, Eight Months and Twenty-eight Nights (which is The Arabian Nights' 1001 stories put in the Gregorian calendar format) point towards the author going back to the magic realism he used in novels like Grimus and had mastered by Midnight's Children. The book is full of gravity-defying goblins and djinns, princesses, rakshasas and tyrants. But it's not exactly going to be like Haroun and the Sea of Stories or Luka and the Fire of Life, because at one point in the novel, it says these creatures "are not noted for their family lives. (But they do have sex. They have it all the time)".
---
THIS ARTICLE IS PRICELESS...
To read this piece, and more such stories in India's most exciting and exacting magazine, plus get access to our 25-year archives goldmine, please subscribe.