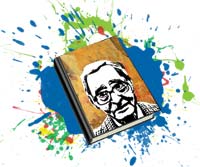 India Song
Legendary artist Ram Kumar, who will turn 91 this year, is also a fine writer. He doesn't use the family surname, but he is the older brother of writer Nirmal Verma (author of the great Hindi novel Parindey and Crows of Deliverance, a collection of seven short stories, in Eng­lish translation). Fri­ends who know Ram Kumar say his short stories and essays are of superior quality. Now the wise, sparkling and amiable painter may be persuaded to write his autobiography. "I have made notes and ske­tc­hes of the various stages of my life in Hindi. But someone will have to go thr­ough them and make a book out of it," he says. It's an endeavour worth taking up. What a story his life will make!
---
THIS ARTICLE IS PRICELESS...
To read this piece, and more such stories in India's most exciting and exacting magazine, plus get access to our 25-year archives goldmine, please subscribe.