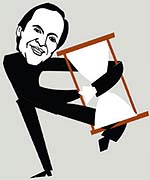 This Girl Is Late
So, when is The Suitable Girl coming out? This question has chased Vikram Seth forever. At a book reading of his newly-illustrated Beastly Tales From Here and There in Delhi, a reader asked him this question and he promised jokingly it would be bigger than the 1,349-page The Suitable Boy. In a literary festival in Bhutan when fans asked him this he was evasive, saying he was working on it. But now his publishers are asking him this, or else if he could ret­urn the advance of $1.7 million ple­ase. Seth's agent has said talks are on. Penguin, which has Hamish Hamil­ton (who gave Seth the money) under it now, would only say that it has nothing to do with its merger with Random House.
---
THIS ARTICLE IS PRICELESS...
To read this piece, and more such stories in India's most exciting and exacting magazine, plus get access to our 25-year archives goldmine, please subscribe.