Every hundred metres or so on the highway from Roorkee to Dehradun, the Uttarakhand capital, life-size hoardings of incumbent chief minister Maj General (retd) B.C. Khanduri loom up with this message: 'Khanduri hai Zaroori'. The slogan, coined by the BJP last week, is splashed liberally all across the state, on posters, hoardings, even newspaper advertisements.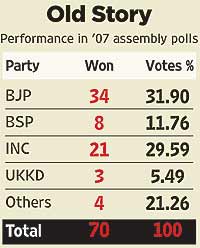 Six months back, when Khanduri was picked by the party again to replace tainted CM Ramesh Pokhriyal Nishank, he knew his job was cut out. An internal survey by the BJP had already set off alarm bells. It said the party under Nishank would not win more than seven out of the 70 assembly seats. Khanduri was brought in to reverse the tide. Six months later, it's still an uphill task.
Just 135 km from Dehradun is Kotdwar, Khanduri's constituency, where...